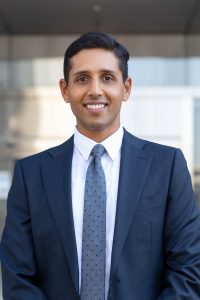 Education
BS – University of Maryland, 2006
MS – Georgetown University, Physiology, 2009
MD – (Medicine) – Eastern Virginia Medical School, 2013
Vascular Surgical Residency – University of Alabama, at Birmingham 2013-2018
Board Certification
American Board of Surgery, Vascular Surgery
 Professional Activity (Current)
Assistant Professor of Surgery, Cedars-Sinai Medical Center
Honors and Awards
American Venous Forum, Servier Traveling Award – 1st place (2016)
Society for Vascular Surgery, Jeopardy Competition – 1st place (2012)
South Asian American Vascular Society, Abstract Competition – 1st place (2012)
Society for Vascular Surgery Introduction to Research Principles Scholar (2012)
Society for Vascular Surgery, Medical Student Funded Scholar (2011/2012)
Professional Organizations
Society for Vascular Surgery
American Venous Forum
Southern Association for Vascular Surgery  
Selected Publications
Ryan Haqq, MD and Benjamin Pearce, MD. "Diagnosis and Management of Renal Vascular Occlusive Disease" in Moore's Vascular and Endovascular Surgery, A Comprehensive Review, 9th edition. Ed. Wesley Moore, MD (Philadelphia, PA, 2019), 397-418.
Routine Extended Follow-Up Surveillance of Iliac Vein Stents for Iliocaval Venous Obstruction may not be warranted. Ryan A. Haqq MD, Zdenek Novak MD, Benjamin Pearce MD, Thomas C.
Matthews MD, Mark Patterson MD, William Jordan MD, Marc Passman MD. J Vasc Surg Venous Lymphat Disord. 2017 Jul;5(4): 500-5.
Endovenous Laser Ablation of Great Saphenous Vein and Perforator Veins Improves Venous Stasis Ulcer Healing. Ryan Abdul-Haqq MS, Brian L. Chen MD, Babatunde Almaroof MD, Jean M. Panneton MD, F. Noel Parent MD. Ann Vasc Surg. 2013 Oct; 27(7): 932-9.